Revolutionary extension technique
100% Remy hair from ethical sources
Hair lasts up to 12 months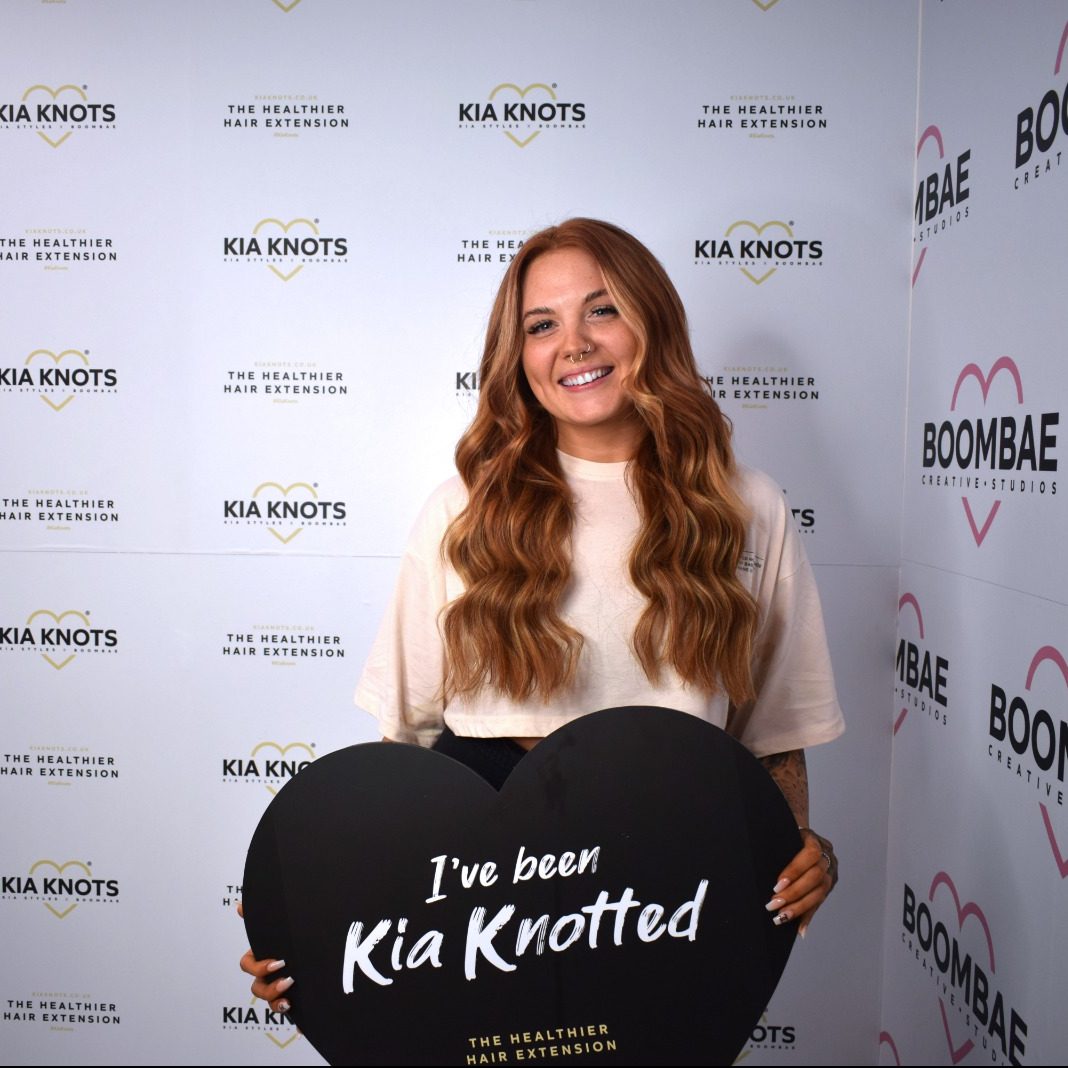 Easy maintenance every 3-4 months
Spread the cost over 12 months
Healthy hair extensions in
Manchester
Kia Knots is a unique knot hair extension technique that involves NO glue, NO heat, NO metal, NO machines, NO chemicals, NO bonds, NO tapes, and most importantly - NO DAMAGE.

We are Kia Knots, a Hair Extensions salon based in Manchester, that was created with just one purpose – finding a way of giving customers beautiful hair extensions that didn't require chemical use or damage the hair when it came to removing them. This monumental task was taken on by our very own Kia Styles, a professionally trained Wella stylist, who has more than 11 years of experience in the hair industry and after using every type of hair extension method she came up with the Kia Knot.

After conducting extensive research and trialing different techniques, she finally engineered the perfect new and healthy way to add hair extensions, taking inspiration from the Brazilian Knots Extension Technique.

Our healthy hair extension technique allows us to deliver tailored solutions for every client, from bespoke coloring to adjusted application if you wear your hair up often. We offer healthy Remy hair extensions to fit each person's unique needs, solve hair related issues & bring a new level of confidence! All without the matting, snagging, heat applications or tedious maintenance sessions. We understand how important is that your hair extensions last and are easy to maintain which is why our extensions, when maintained correctly, can be worn for over a year. For refits, we recommend, to remain proper maintenance, to come back to our Manchester salon every 3-4 months. Using the Brazilian Knot Extension technique allows the hair to still grow underneath it, so your hair won't be matted or damaged when it comes to removing them. Fitting Kia Knots Hair Extensions takes around 4-5 hours with full colour with maintenance every 3-4 months. These refits are easy! They take 2-3 hours to put the knots back in place and that is it! No chemicals involved! You need to be prepared to spend a good half day in the salon but don't worry, you will be well looked after with complementary drinks, mindful reads, treats and great banter!
Full Head
For extra thickness & length
We Only Use 100% Remy hair
Extensions
We only use the best products in the industry that are sustainable & ethical which is why only use one supplier in Russia that we trust and are so thankful they are a part of our hair extensions journey. It is high-quality, long-lasting, always has a smooth texture and is very robust..

Why? Because we value quality over quantity! Our hair is the heart of Kia Knots Hair Extensions. After travelling across the world, we have located both an ethical and sustainable supplier in Russia who we trust and work with to ensure our extensions are healthy and the best in the business

Our technique was designed with you in mind. Our focus is completely on looking after our client's hair and making sure that it isn't being damaged in the process. Maybe you suffer from thin hair or just prefer a fuller look, hair extensions are a huge source of self-confidence for some people and we want to be a part of that most healthily and safely way possible for them. The Kia Knot is a unique hair extension in that it doesn't contain any glue, heat, metal, machines, chemicals, bonds or tapes.

When looking for a Kia Knots salon or stylist, always make sure they are a certified platinum extensionist - this guarantees you are getting the highest quality luxury Remy hair out there! Our hair is 100% human hair and cuticle aligned - cut from the same head, not multiple. There is no silicone added or coated to the hair. The blacks/darks are all natural and unprocessed, without any colour - although colour is advised to add for freshness and a glossy/sleek look. All hair is double drawn. We perfectly match the hair to your hair colour and make sure you get the best results - a hair with amazing thickness, lenght & colour!
Become a
Platinum Extensionist
As you can probably tell, we love what we do, and we want you to become a part of our journey as well! We are so excited to announce our hair extensions courses launching at our Manchester Salon.
Whether you're a salon owner looking to change or learn a new technique or you have recently completed your NVQ Level 2 in Hairdressing, we are here to help teach you throughout this course how to install and upkeep our innovative new way of applying hair extensions. Our technique uses no chemicals, heat application, metal or anything other than a unique elasticated thread technique.
The average stylist/colourist/hairdresser will earn around £300 per day when self-employed, that's 2-3 heads of colour and that's if you are busy and have built a vast client base.
You can earn way more for the same time. Earn big by learning and installing the healthiest extensions that exist on the market. An up and coming, new method that will take the industry by storm.
Have you ever felt that there must be a better way to offer hair extensions than what is available at the market? Tired of seeing your customers leave your salon as happy as they can be knowing that their hair will be horribly damaged by the time they come for their maintenance? Are you looking for a healthy hair extension option to offer your clients? Learn to install and upkeep the healthiest hair extensions in the market. With no chemicals, no heat application, metal or anything other than a unique elasticated thread technique, Kia Knots is taking the industry by storm!

We hold our courses on our salon on a Monday every month. First part of the day is spent on theoretical content and second half learning hands on from Kia herself, creator of this unique twist to the classic brazilian knots. You need minimum a NVQ level 2 in hairdressing to access to our course. We are fully insured and CPD accredited. Non-refundable deposit of £500 to enroll you in the course.
1 Day Fast-Tracking course

Full support during & after training

1 full head of extensions on model provided by us

Social media promotional materials

Supply chain from Kia Knots for all hair, tools & supplies
More Reasons To Love
Kia Knots
Free Consultations
Free Kia Knots Care Kit With Each Fitting
Low Interest Finance Available
Secure Checkout
Kia Knots

Gallery