Frequently Asked Questions – Kia Knots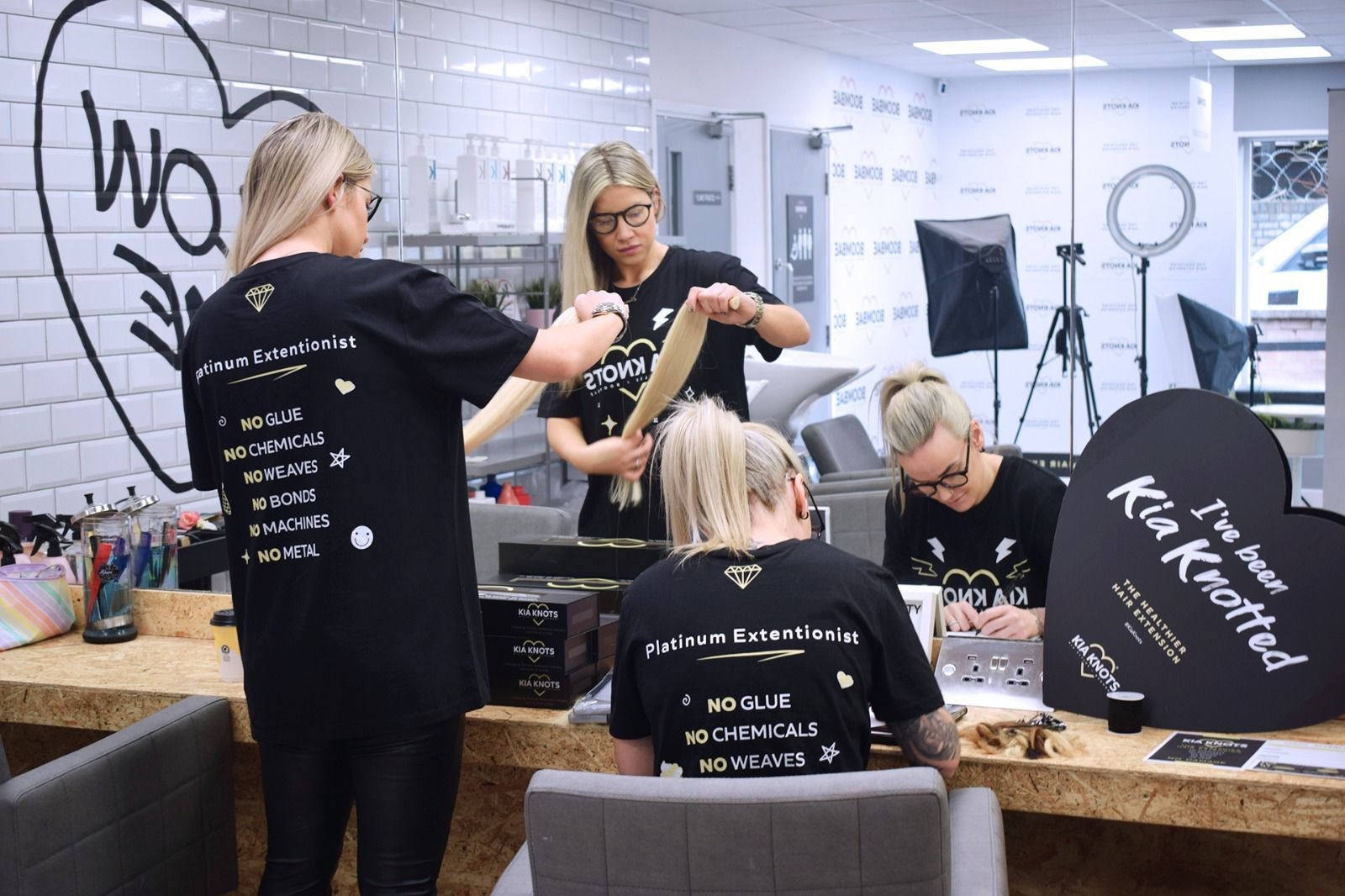 How long does the fitting take?
Half head – around 3 hours. Full head – 4-5 hours.You need to be prepared to spend a good half day in the salon but don't worry, you will be well looked after with complementary drinks, mags, treats and great banter!
What kind of hair do you use?
We use 100% remy hair. This means all the hair is cuticle aligned (cut from the same head). Because all the hair flows naturally from the same direction, remy hair stays silkier and softer. This is the finest hair quality in the market, and we only source from sustainable & ethical suppliers.
How long do Kia Knots extensions last?
With proper maintenance and refit every 3-4 months they can last over a year!
What does the knot look like?
Pretty much like a knot! Depending on your root color we will use white or black thread so it blends better with the hair. We fit the hair as close to the scalp as possible without damaging the hair of course so the knots don't show.
Can you see them when I tie my hair up?
Sometimes yes, but they are pretty easy to hide. If you are someone that wears your hair up A LOT then let your extensionist know and we will really try and hide the knots more-so than usual. It means not putting the knots so close to the sides.
Once your knots settle, hair up is not a problem!
How many times do I wash my hair when they are in, more or less?
Most people don't wash their hair more than once weekly but this is personal preference. You can wash your hair as often as you want but always making sure you brush and untangle your knots properly after.
You must ensure you hold your hair/knots at the root whilst brushing otherwise you will drag out your knots. 90% of Kia Knots customers do not lose any knots at all, those that do are not brushing properly. We recommend you get a tangle teaser asap!
It will hurt to sleep on as your scalp is adjusting. Some people opt for light pain relief to help during days 1-3. After 7-9 days you will forget your knots are in and feel no pain.
Can I go into the sea water on holiday?
Yes this is totally fine! You just have to be careful of tangling and make sure you bring a good conditioner mask with you, as the sea can dry any hair, nevermind extensions! We recommend Wella enrich mask
These happens very rarely and mostly on customers with really thin hair. If one of your knots has fallen off, we can fit them back in on your next sitting if you keep the hair knot intact as neatly as possible.
Got more questions? Please give us a call on 01613022573 and we'll be happy to answer them!