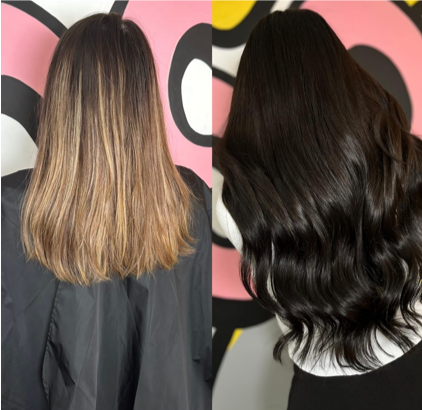 Why Kia Knots Are The Best Extension On The Market
The world of hair extensions can be so overwhelming. We have access to so many different techniques from clip-ins to tape-ins, and sew-ins and weaves to bonded extensions, it can be overwhelming and difficult to know what method is right for your hair. However, if you're on the hunt for high-quality, versatile, and long-lasting hair extensions, look no further than Kia Knots Hair Extensions, the healthy hair extension.
A person with long hairDescription automatically generated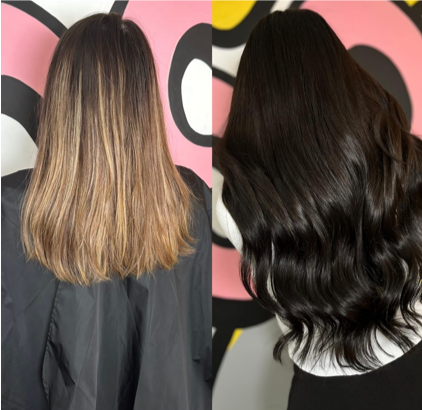 Before and after transformation of colour and full head Kia Knots
You might be asking what makes Kia Knots different? There are many reasons that Kia Knots stand out from the competition. A huge factor is the quality of the hair we use. The foundation of any excellent hair extension is the quality of the hair itself. With Kia Knots Hair Extensions, we use 100% Remy human hair, which is the highest quality you can find. This means that the cuticles of the hair strands are aligned in the same direction, preventing tangling and matting. The result is soft, natural-looking hair that seamlessly blends with your own locks. Not only this, when you use premium human hair, you are able to heat style your extensions and they will always last longer.
Kia Knots Hair Extensions are designed to last. With proper care and maintenance, our extensions can be a long-term investment in your beauty routine. The high-quality Remy hair ensures minimal shedding and tangling, and you can expect your extensions to maintain their shine and softness for months to come.
One of the most critical aspects of hair extensions is how well they blend with your natural hair. Kia Knots excels in this department. Our highly trained extensionists, that are always trained by the founder of Kia Knots, Kia Styles, are experts in getting the extensions to mimic the flow and texture of real hair, ensuring that the extensions are virtually undetectable once they're applied. Whether you have fine or thick hair, Kia Knots offers extensions that seamlessly merge with your own strands.
One of our most unique factors is that Kia knots is the only technique that is completely damage free to your hair. The founder of Kia Knots, Kia Styles was sick and tired of seeing the damage traditional hair extension methods caused to her client's hair. Kia wanted to create a technique that was damage free, invisible and that would change the extension market.
Kia Knots takes comfort seriously. Our hair extensions are lightweight and designed to sit snugly without causing discomfort or tension on your scalp. This allows you to enjoy your new look without any unnecessary headaches or discomfort. The way Knots work is by using your own hair to tie the extension to your natural hair, using no heat, no chemicals, and no glue.
If you're looking for a hair transformation, whether you want length, volume, both. Or possibly you're suffering from hair loss and need to add some extra hair without compromising the health or condition of your hair. Kia Knots is the only method of extensions to try. Our commitment to quality, durability, versatility, seamless blending, and comfort makes us the only choice when looking for hair extensions. Get hair extensions, the healthy way. Book in for your free consultation via the link below to talk with one of our expert extensionists so we can get you your best hair yet.
I'm sold – how can I go ahead?
The best way to go ahead with us is to book a free consultation and come and see us, ask all the questions you wish and if you want to go ahead then we take payment and plan/organise and book your appointment.
We are located in Trafford Manchester, Just outside of Manchester City Centre
Or, want to chat? Call us on 01613271712
link to book your free consultation – https://kiaknots.co.uk/book-now