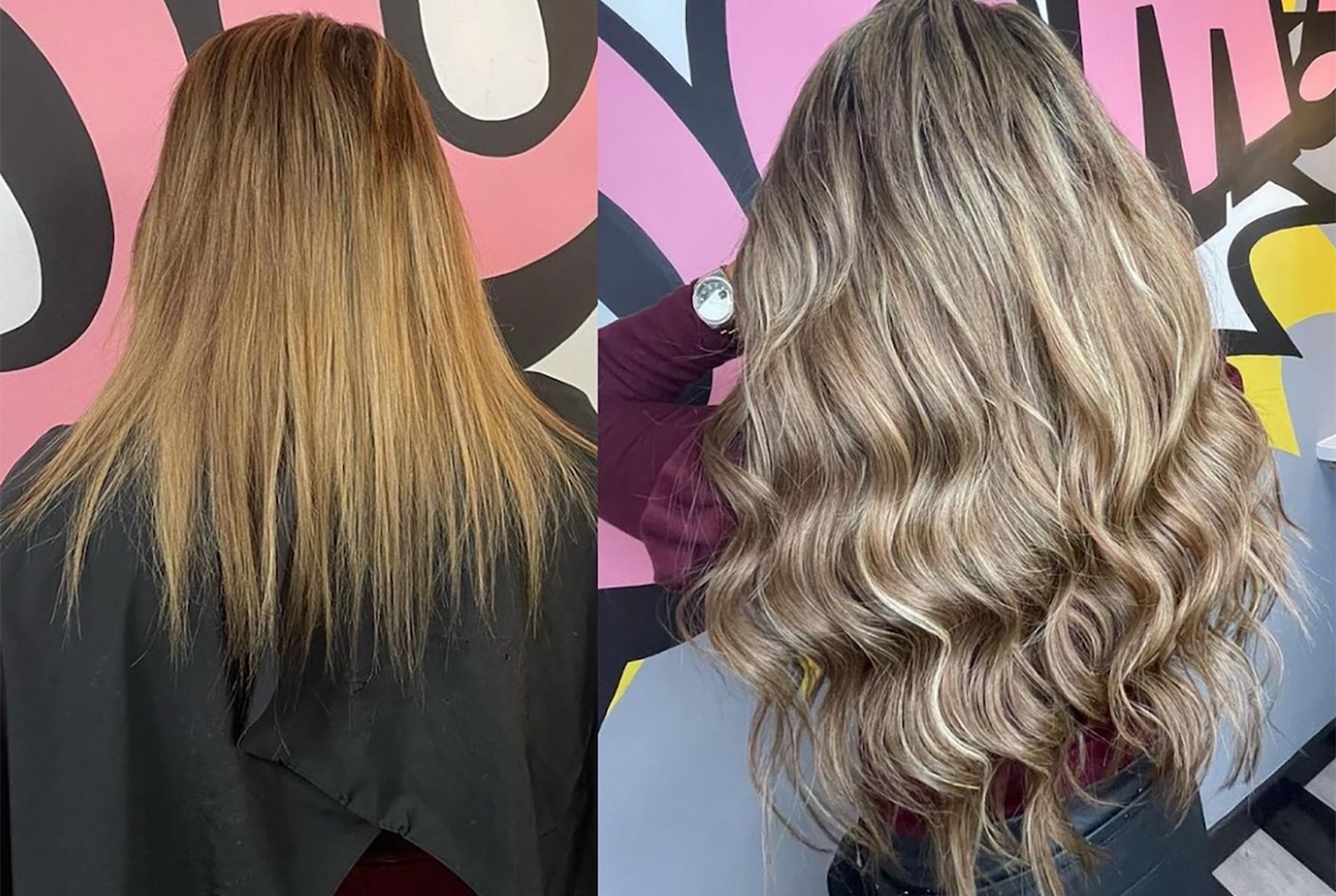 Why Kia Knots Hair Extensions Are Taking the Industry By Storm…
In the world of beauty and fashion, hair extensions have become a revolutionary trend, providing individuals with the opportunity to explore new hairstyles and achieve stunning transformations. Among the many brands that have emerged, Kia Knots is an award-winning hair extension line that is truly changing the industry. Kia Knots was created by five years ago by Ciara Farrell and ever since then Kia Knots became a pioneer in the hair extension industry, with our unique application process that doesn't damage the hair and offering top-quality hair that combine style, durability, and versatility. No glue, no chemicals, no machines, no heat. Kia Knots, the healthier hair extension.
One of the key reasons why Kia Knots hair extensions have gained immense popularity is because it is the ONLY hair extension technique that will not damage your hair, as well as this our commitment to superior quality and ethical sourcing. The extensions we use are made from 100% human hair, sourced responsibly and sustainably. This guarantees a natural look and feel, as the extensions blend seamlessly with your existing hair, creating a flawless and undetectable finish. Moreover, because of the high quality of hair extensions, they are incredibly durable. When cared for correctly, they can last for months, making them a worthwhile investment for those seeking a long-term solution for voluminous and luscious locks.
A Wide Range of Hair Extension Options:
Kia Knots understands that every individual has unique hair needs and preferences. Hence, they offer a diverse range of hair extension options to cater to various hair types and styles. Each type comes in various lengths, colours, and textures, allowing you to achieve your dream look effortlessly. Whether you're dreaming of long, flowing locks, or voluminous curls. Kia Knots hair extensions can make it all possible. With the added volume and length, you can confidently try out different looks.
Boosting Confidence and Self-Expression:
Great hair can undoubtedly boost one's confidence and self-expression. Kia Knots hair extensions empower individuals to embrace their desired look, whether it's a subtle enhancement or a bold transformation. Whether you're looking to add a touch of glam to your everyday style or need a confidence boost for a special event, with Kia Knots we have the perfect extension to help you feel fabulous. We're committed to making you feel like your best self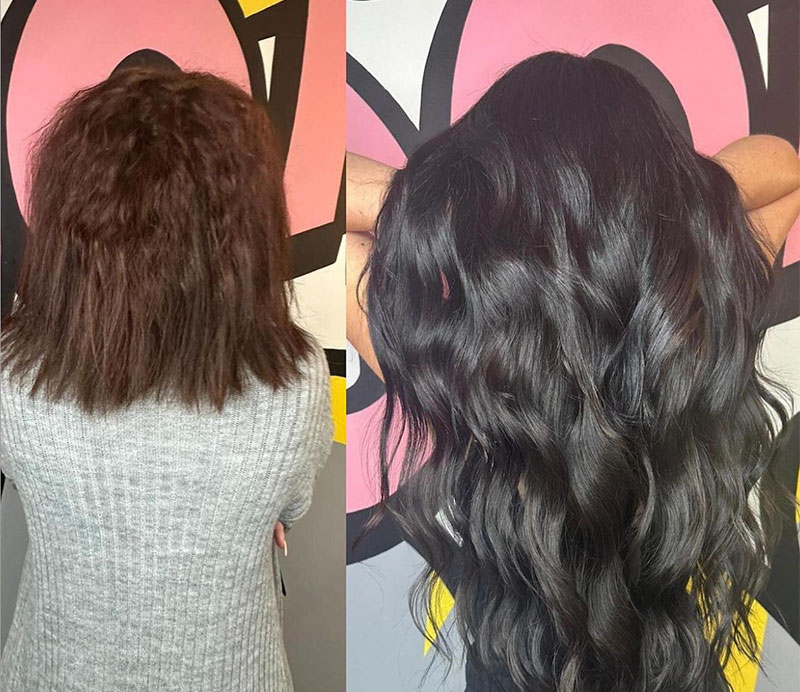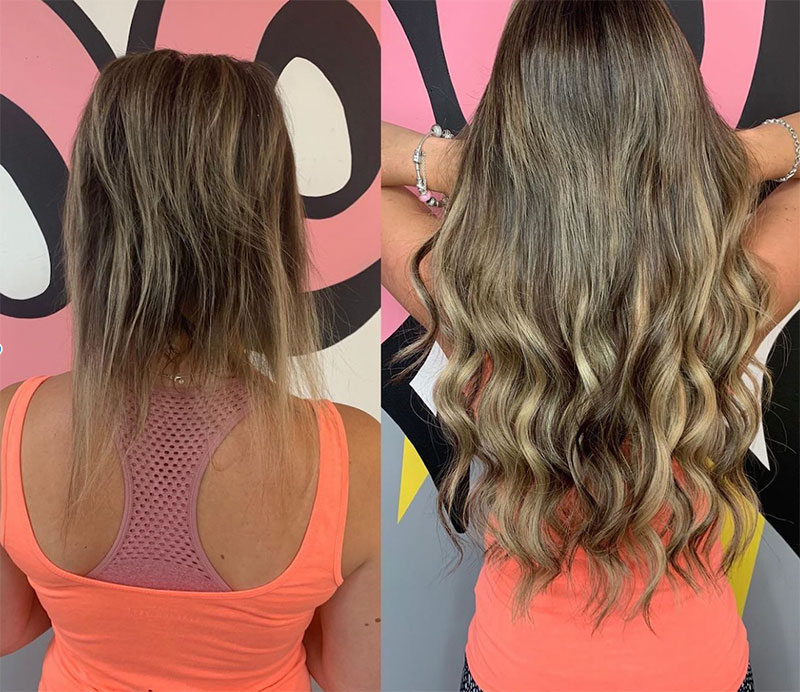 So, how do we compare to other extension techniques?
1. Kia Knots vs. Clip-In Extensions:
Clip-in hair extensions have long been a go-to option for those seeking a temporary hair transformation. Though they are easy to apply and remove. Kia Knots hair extensions take it a step further by offering a wider variety of lengths, colours, and textures. Unlike some clip-in extensions that may look synthetic, Kia Knots provides 100% human hair extensions, ensuring a more natural and seamless blend with your own hair. While both options offer versatility in styling, Kia Knots' superior quality and durability make them a favourite for those seeking longer-lasting results, there's no messing around like you have with clip ins once you've had your fitting, they're in and you're good to live life with your dream hair.
2. Kia Knots vs. Tape-In Extensions:
Tape-in extensions are known for their semi-permanent nature. Some tape-in extensions can be prone to slipping or causing discomfort. Kia Knots addresses this concern by utilizing a unique installation method, which ensures the extensions stay securely in place and remain comfortable throughout their wear. Additionally, the high-quality human hair used with Kia Knots extensions guarantees a seamless look, eliminating any tell-tale signs of extensions that can sometimes be visible with tape-ins. Tape-In extensions also use glue to bond the hair together which can create damage to the natural hair during refit or when you want to take the hair out. Whereas Kia Knots uses thread to tie both the extension and natural hair together which leaves no damage to the natural hair.
3. Kia Knots vs. Fusion Extensions:
Fusion extensions involve bonding individual strands of hair to your natural hair using keratin or other adhesives. While fusion extensions offer longevity. Kia Knots also ensures their extensions maintain a high level of comfort, unlike fusion extensions, which can sometimes cause discomfort due to the bonding process, and like we said earlier Kia Knots causes your natural hair no damage, unlike bonding which is known for causing damage to your natural hair.
4. Kia Knots vs. Weave Extensions:
Weave extensions involve braiding your natural hair and then sewing wefts of hair into the braids. This technique provides a secure attachment but can be time-intensive and require regular maintenance. Kia Knots hair extensions offer a comparable level of security with our technique, providing a less time-consuming and equally reliable alternative, again offering NO damage. As the hair sits on one weft in can pull on the natural hair and can cause a lot of damage which Kia Knot do not.
While various hair extension techniques have their merits, Kia Knots hair extensions stand out for our superior quality, ease of application, and versatility. With Kia Knots hair extensions, you can expect a seamless and natural look that blends flawlessly with your hair. With our commitment to durability, flawless application and finish, and ethical sourcing, Kia Knots hair extensions offer a winning combination for anyone looking to achieve a stunning and long-lasting hair transformation. Whatever your hair goals may be, Kia Knots has the perfect extension solution to help you feel fabulous and confident every day.
How much does it cost?
For a full head of Kia Knots its £750 (for up to 22 inches)
For half a head of Kia Knots its £500 (for up to 22 inches)
There are options for extra-long that do have sur charge.
Refits are recommend every 12 weeks and are £300 for a full head and £250 for half a head.
I'm sold – how can I go ahead?
The best way to go ahead with us is to book a free consultation https://www.phorest.com/salon/boombaeltdand come and see us, ask all the questions you wish and if you want to go ahead then we take payment and plan/organise and book appointment.
We are located Trafford Manchester, Just outside of Manchester City Centre.
Or, what to chat? Call us on 01613271712